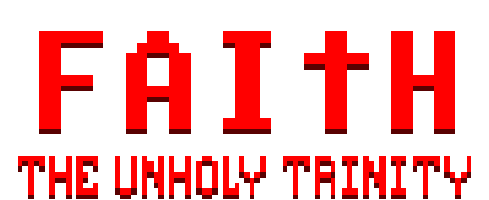 FAITH: The Unholy Trinity
FAITH: The Unholy Trinity v1.1 Update
---

Thank you to all the FAITHful for checking out FAITH: The Unholy Trinity! The response over this first week post-launch has been incredible.
Today we're posting the 1.1 update for FAITH with the following changes:
General:

Fixed typos and naming inconsistencies in credits and notes
Changed main menu music to avoid bogus copyright claims on YouTube

Chapter I:

Fix for John getting stuck after "She is here" cinematic
Adjusted rifle hitbox so it can be more easily picked up
Fix for looping audio in basement

Chapter II:

Fixes for crashes during Miriam boss battle

Fix for crash when dying while lighting scarecrow on fire
Fixes for being able to go out-of-bounds in narrow passageways in Candy Tunnel

Chapter III:

Extra save in the "Nowhere" forest (full of Malphas acolytes)

Fix for crash when dying while "Give up cross" prompt is displayed
Fix for lantern/darkness effect staying visible when Malphas spawns into final boss battle
Fix for Mirror Room Moloch Key being unobtainable after defeating Mirror demon and leaving the room
Fix for bug where Jeffery aggros toward John immediately after spawning into Gurney sequence
Fix for getting stuck in Lisa's room when returning after defeating Alu
Fix for John going out-of-bounds during cinematic of Malphas seals breaking
Fix for Gary getting stuck in his trident throwing animation during his battle
Fix for invisible flames lighting John on fire during Astaroth/Malphas battle
Fix for certain items being drawn on top of other items in pause menu
Fixed note 42 not displaying in note reading mode in pause menu
Enjoy and remember: Gary loves you.
Get FAITH: The Unholy Trinity